#1 Professional
HVAC Replacement Services by Atticare
Upgrade Your Comfort with Atticare's HVAC Replacement Services
When it comes to maintaining a comfortable living or working environment, a well-functioning HVAC (Heating, Ventilation, and Air Conditioning) system is essential. If your HVAC system is showing signs of age, inefficiency, or unreliability, it might be time to consider HVAC replacement. Atticare is here to provide you with top-tier HVAC replacement services that will enhance your comfort, energy efficiency, and indoor air quality.
How to Tell When It's Time to Replace Your HVAC/Central Air Unit
Recognizing when it's time to replace your HVAC/central air unit can save you frustration and discomfort. Here's how to tell whether your HVAC equipment needs repairs or outright replacement.
Old Age Means Lowered Performance
While some older household heating and air systems can last for years, the older your equipment gets, the less you can expect in terms of performance. On average, the typical HVAC setup can last between 10 – 20 years. Yet, longevity doesn't always mean great performance.
If you notice your equipment struggling to heat or cool your home, especially in severe weather conditions, it might be time for a checkup or replacement. Outdated equipment can also pose a hazard, so a professional should investigate before you trust a 20-year-old furnace to keep your family warm.
Frequent Downtime Can Cost You
Equipment that frequently quits on you is not only frustrating. It likely costs more than it's worth, too. If you can't rely on your equipment to perform consistently between tune-ups, it could be on its way out.
Over time, you can expect some maintenance costs with your HVAC system. However, frequent repairs or exceptionally high bills from your trusted service provider could be a bad sign. A system that continues to cost more to fix likely won't recover, meaning sooner is better for replacement.
Why Choose Atticare for HVAC Replacement?
Expertise You Can Trust:  
At Atticare, we have a team of highly trained professionals with extensive experience in HVAC replacement. Our technicians are certified, skilled, and up-to-date on the latest industry standards and technologies. They'll guide you through the entire replacement process, ensuring your new system meets your unique needs.
Comprehensive Assessment:  
Our service begins with a thorough assessment of your existing HVAC system. We take into consideration your property's size, layout, insulation, and your specific heating and cooling requirements. This enables us to recommend the most suitable replacement system for your space.
Customized Solutions: 
We understand that every property and homeowner's needs are different. Atticare offers customized HVAC replacement solutions that fit your budget and preferences. Whether you're looking for energy-efficient options, smart thermostats, or specific brand preferences, we've got you covered.
 Energy Efficiency: 
One of the primary advantages of replacing your HVAC system is improved energy efficiency. We offer a range of energy-efficient options that can help reduce your energy bills while minimizing your carbon footprint. Atticare is committed to providing sustainable and environmentally friendly solutions.
Enhanced Indoor Air Quality: 
Modern HVAC systems are equipped with advanced air filtration and purification features. Upgrading your system with Atticare ensures that your indoor air quality is optimized, reducing allergens, dust, and pollutants for a healthier living environment.
Reliable and Timely Service: 
We understand that a malfunctioning HVAC system can be a major inconvenience. Atticare is committed to providing timely and reliable services, ensuring that your replacement is completed with minimal disruption to your daily life.
Financing Options: 
Atticare offers flexible financing options to help you manage the cost of HVAC replacement comfortably. Our team will work with you to find a payment plan that suits your budget.
Our HVAC Replacement Process
Initial Consultation:   Contact Atticare to schedule an initial consultation. Our experts will assess your HVAC system and discuss your needs, preferences, and budget.
Recommendation:  Based on the assessment, we will recommend a range of HVAC replacement options tailored to your requirements.
Installation:  Our certified technicians will handle the entire installation process efficiently and professionally, ensuring your new system is up and running smoothly.
Testing and Quality Assurance:  After installation, we conduct thorough testing to verify that your new HVAC system operates optimally.
Customer Satisfaction:  We're committed to your satisfaction. Our team will walk you through your new system, providing information and guidance on its operation and maintenance.
Benefits of Replacing Your HVAC/Central Air System
A Newer HVAC Unit Means Higher Efficiency
No matter how old your home's existing HVAC system is, newer models are more efficient by default. Continuous improvements in technology mean better results from HVAC equipment. Better performance equals higher efficiency, so your unit won't have to work hard to keep your home comfortable.
One caveat exists with replacing your HVAC system, though: New equipment won't prevent warm or cool air from escaping your home. To get the most out of this energy upgrade, explore other projects to improve energy efficiency around the house.
Improved HVAC Systems Cost Less to Run
Overpaying for energy costs in some (or all) seasons is a good reason to replace your HVAC system. The up-front cost may sound like a lot. Considering how much you could save on energy bills moving forward, it becomes a bargain.
Operating cost savings depend on usage and the rating on your EnergyGuide label, of course. But you can expect lower utility bills with a newer HVAC system. Especially when adding other energy-saving measures to your home, a modern central air system can contribute to significant household savings.
New HVAC/Central Air Systems Are Cleaner
Healthy air is essential. And yet, according to the EPA, indoor pollutant concentrations are often two to five times higher than outdoor concentrations. Ensuring cleaner air for your family starts with preventing pollutants from blowing throughout your HVAC system and living areas.
Replacing your central air equipment, including the ductwork as necessary, can cut down on potentially harmful substances circulating indoors. Especially if your home (and equipment) is older, a system upgrade could help ensure more breathable air and fewer allergens.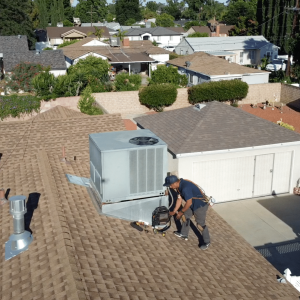 Experience the Atticare Difference
When you choose Atticare for your HVAC replacement needs, you're not just getting a new system – you're investing in your home's comfort and your family's well-being. Our commitment to quality, professionalism, and customer satisfaction sets us apart as the preferred HVAC replacement service provider.
Ready to upgrade your HVAC system? Contact Atticare today to schedule a consultation. Let us help you enjoy a more comfortable and energy-efficient home. Your comfort is our business!
Fill out the form below OR call us now to schedule a FREE consultation