#1 Professional
Radiant Barrier Installation Services
Installing a Radiant Barrier in Your Attic
Your roof is constantly absorbing the heat from the sun, which in turn transfers into the rest of your home. Installing a radiant barrier reflects that heat away from your home, helping to reduce the indoor temperature and save on the cost of cooling it.
We have worked with enough homeowners over the years to understand how high of a priority your comfort is to you. Though your HVAC system is crucial to regulating the indoor temperature of your home, proper insulation plays a major role in keeping that warm or cool air inside and maintaining a stable climate.
One affordable, yet incredibly effective measure homeowners can take to maintain their comfort is having a radiant barrier installed in their attic. Radiant barriers are a sheet of reflective materials installed along the ceiling of your attic (beneath the roof) that prevent the transfer of solar heat from passing through your attic into the rest of your home.
Radiant barriers differ from other forms of insulation because instead of slowing the flow of heat or cold into your home, they prevent heat transfer by reflecting it outward. This significantly lowers the amount of energy (and money) it requires to cool your home, particularly for homeowners that live in hot, sunny climates. They even come with elemental resistance, which protects them against impact from outdoor conditions.
A radiant barrier is not only beneficial in the warm summer months. During winter, they also help prevent snow and ice buildup on your roof by reflecting the sun's warmth back toward the roof, causing the snow to melt faster and preventing ice dams. They also contribute to keeping your heat inside, reducing your energy usage during wintertime.
At Atticare, we recommend installing a radiant barrier to most of our customers because it is an inexpensive investment that yields significant returns for years to come. We can either install it beneath your roof rafters or over your current installation, though the first option tends to be more effective. If you are interested in having a radiant barrier in your attic so you can begin reaping the benefits right away, our team would be happy to help!
The Benefits of a Radiant Barrier
Radiant barriers continue to increase in popularity because of their affordability in comparison with the various benefits they yield. They provide a lasting solution that helps you avoid the need to leave your A/C running around the clock. Some of the benefits of installing one of these barriers include:
Reduce heat gain in the attic (and the rest of your home)
Lower energy usage
Save money on cooling cost
Stabilize your indoor temperature
Protect your HVAC and other systems in your attic
Protect your home and your roof
Prevent snow buildup and ice dams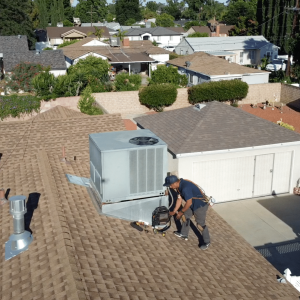 The Radiant Barrier Installation Process
Installing a radiant barrier is a relatively quick and straightforward process that can usually be accomplished in less than a day. Our team of attic professionals has ample experience installing them in all sorts of homes and will ensure that it is set up for maximum effectiveness.
While many homeowners choose to add a radiant barrier when they replace their insulation, we can also install it over your insulation if you have replaced it in recent years and it is still in good condition. Rather than removing your insulation and installing the radiant barrier beneath the insulation and roof, we can simply install it on top. However, we do recommend the former option as having the radiant barrier directly attached to the underside of your roof makes it more effective.
Regardless of the condition of your attic and current insulation, our team prides itself on finding creative solutions to helping our customers become more energy efficient and make wise investments in their property. Schedule a free consultation today and the Atticare team will work closely with you to help you reach these goals.
Why You Should Choose Atticare for Radiant Barrier Installation
Atticare are fully licensed and insured attic and crawl space professionals with over a decade of experience helping homeowners on both US coasts to save money and create more healthy, energy-efficient home environments. We have a 98.8% satisfaction rate amongst our clientele and have been Diamond Certified because of our reputation for excellent workmanship and superior customer service.
Don't just take it from us! Check out some testimonials from clients who worked with us and can tell you themselves.
If you are in need of a professional crawl space vapor barrier installation in Los Angeles, New York, New Jersey, or the San Francisco Bay Area, look no further than Atticare! Schedule a free consultation today by sending us a message or calling us at 1-866-692-5449.
Fill out the form below OR call us now to schedule a FREE consultation