#1 Professional
Air Duct Services
Air Duct Repair & Replacement Services
Damaged or broken air ducts cause you to lose the warm or cool air that your HVAC system is pumping throughout your home. At Atticare, we can inspect all your air ducts and make sure they are sealed and working to their full potential!
As homeowners, we often take for granted that our HVAC systems are always working behind the scenes to keep us comfortable. We adjust our thermostats and enjoy the warm or cool air that blows from the vents around our home, but we rarely, if ever, take a look at how it all works. That is, until a problem arises.
However, like other parts of your home, your HVAC system also requires occasional inspections and maintenance visits in order to make sure it's working properly and to avoid major shutdowns or repairs. Why let these disruptive, costly events occur when you can avoid them by catching and addressing the problems before they get worse?
When air ducts are not properly or sufficiently insulated, leaks occur and your HVAC system has to use even more energy in order to warm or cool your home to the set temperature. Beyond wasting energy, deficient ducts also have a harder time providing an even, comfortable temperature, causing some areas to be warmer or colder than others. These leaks also allow dust and debris to enter the ducts and then circulate around your home, harming the air quality and triggering respiratory conditions like asthma and allergies.
The following signs indicate that you may have a damaged or broken air duct and could benefit from repair or replacement services:
Noisy HVAC Operation
High Energy Bills
Uneven Heating or Cooling
Dust Throughout Your Home
Odor of Mold or Mildew
Pest Problems
Respiratory Issues (Asthma, Allergies, etc.)
Debris Around the Vents
At Atticare, we offer free in-home inspections to assess and make recommendations as to how you can improve your air ducts for better performance and energy-efficiency. If you notice any of the symptoms mentioned above, don't hesitate to call us for a complimentary consultation. We will conduct a thorough inspection, report our findings, and carry out any air duct repair or replacements necessary to get your HVAC system working safely and efficiently.
The Benefits of Air Duct Services
Having your air ducts properly installed and insulated offers a whole host of benefits to your home, finances and health beyond just making sure your HVAC system is working as efficiently as possible:
Reduced Energy Usage
Lower Monthly Utility Bills
Decreased Carbon Footprint
Improved Air Quality
Eliminates Foul Odors
Lowered Risk of Asthma and Allergies
Decreased HVAC Noise
Well-Regulated, Comfortable Indoor Temperature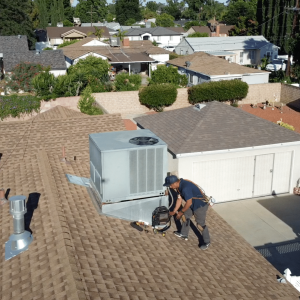 The Air Duct Repair and Replacement Process
As we mentioned above, the air duct repair or replacement process begins with a free inspection. During this initial assessment, we will take a look at the air ducts that run through your attic and crawl space in search of any damage or irregularities that could indicate an issue.
If we identify a leak or broken duct, we will notify you of our findings and depending on the severity of the problem, make recommendations to either fix or replace the air duct. Now that we have a better understanding of the scope of the issue, we can also provide you with a free, zero-obligation quote for the repairs or replacement. At Atticare, our goal is to save our customers money and help them make wise investments, so we will always consider repair as a first option before recommending a more costly replacement.
With your permission, we will move forward with addressing all of the leaks or damage we have uncovered and make sure your air ducts are properly sealed and sufficiently insulated to prevent future issues. By the time we finish, your HVAC system will be able to disperse the warm or cool air it produces evenly throughout your home and you will immediately begin to enjoy the energy savings and clean air now circulating through your home!
Why You Should Choose Atticare for Air Duct Services
Atticare are fully licensed and insured air duct professionals with over a decade of experience helping homeowners on both US coasts to save money and create more healthy, energy-efficient home environments. We have a 98.8% satisfaction rate amongst our clientele and have been Diamond Certified because of our reputation for excellent workmanship and superior customer service.
Don't just take it from us! Check out some testimonials from clients who worked with us and can tell you themselves.
If you are in need of a professional crawl space vapor barrier installation in Los Angeles, New York, New Jersey, or the San Francisco Bay Area, look no further than Atticare! Schedule a free consultation today by sending us a message or calling us at 1-866-692-5449.
Fill out the form below OR call us now to schedule a FREE consultation