#1 Professional
Insulation Services
in the New Jersey Area
The #1 Professional Insulation Services in
the New Jersey Area
Improve your home's air quality, energy efficiency, and acoustics with new insulation in your attic and crawl space! At Atticare, we install the highest quality insulation materials throughout New Jersey.
Our Insulation Installation Process - Step By Step
Attic & Crawl Space Inspection
Before we even begin the process of readying your attic and crawl space for new insulation, our technicians will conduct a thorough inspection of their size and condition in order to determine which insulation material will work best. We also check for any evidence of:
Water damage
Rodent Infestations
Mold and Mildew
Damage to your HVAC ducts
Many of the homes in New Jersey are older constructions which haven't been updated in decades. This inspection is meant to give you an idea of the extent of the work we will be doing and provide you a more accurate estimate of the total cost. If we find any considerable damage, these issues should be addressed before or during the installation process according to the nature of the problem.
Insulation Removal & Cleaning
Once your attic and crawl space have been fully inspected, the next step is for us to remove everything from these areas, including your old insulation. Unless your home is a new construction, we will need to perform a thorough cleaning to get rid of any waste and debris that has accumulated over time or been left behind by rodents or other pests.
This initial surface cleaning allows us to begin eliminating any odors and bacteria as well as to identify any issues that were formerly hidden underneath. Atticare handles all the vacuuming, collecting and proper disposal of any unwanted or potentially harmful materials in your New Jersey home.
Sanitization & Decontamination (Optional)

Now that the visible dirt and debris has been taken care of, it's time for us to move onto the most important aspect of the cleaning stage; sanitization and decontamination. Attics and crawl spaces are prone to collecting germs, bacteria, fungi and parasites that can cause health issues in humans, particularly if we find signs of rodents dwelling within them.
Sanitization and decontamination are so important because the air that circulates from these areas into the rest of your home will become polluted, potentially causing:
Respiratory conditions
Bacterial infections
Mold exposure
Weakened immune systems
The highly-trained professionals at Atticare will rid your New Jersey property of any contaminants, bacteria and odors before installing any insulation whatsoever.
Rodent Proofing & Air Sealing (Optional)

Before new insulation is installed, our team needs to make sure that no rodents will be able to get in and no energy will be able to escape. Rodents are not only dangerous for your health, but can also threaten the structural integrity of your home by chewing through walls, the new insulation, and even electrical wiring (which can cause house fires). In New Jersey and New York, rodent infestations are a common problem due to the close proximity to New York City, one of the largest rat havens on earth.
At Atticare, we provide a one-time, subscription-free solution to rodent proofing that is:
Non-toxic
Pesticide-free
Eco-friendly
Safe for pets and small children
During this stage, we also caulk and fill any gaps that could potentially allow your heat or cool air to escape. These measures go a long way toward lowering your energy bills and making your home more energy-efficient.
Finally, your attic and crawl space are properly prepared for new, high-quality insulation to be installed! Atticare provides our customers with only the highest quality insulation materials and our experts can walk you through the cost and benefits of each according to the needs and design of your home. As an experienced insulation contractor, we can help educate you in order to make the best possible decision for your home and family.
You will start to notice the following improvements as soon as we are finished:
Lower energy bills
Improved air quality
More stable, comfortable indoor climate
Outdoor noise reduction and enhanced acoustics
Our primary goal at Atticare is to make your New Jersey home more comfortable and energy-efficient so you can tell the difference right away! By the time the last bit of insulation has been installed, your home will be fully equipped to stay cool all summer and warm all winter for years to come.
Crawl Space Vapor/Moisture Barrier Installation (Optional)

For those clients who have had new insulation installed in their crawl space, we also highly recommend installing a vapor barrier. A vapor barrier is a sheet of commercial grade plastic that is installed along the ground within your crawl space. This simple, affordable measure will keep your crawl space drier and more sanitary during New Jersey's more humid months and protect against mold and mildew infestations as well as structural damage.
Excess moisture in your crawl space is known to cause rot, rust and mold which can be harmful to your home as well as to the health of your loved ones. By keeping moisture out, you can preserve the air quality that circulates into your home and avoid the potentially high repair costs associated with rust and rot in your home's foundation.
We Provide Insulation Services

in New Jersey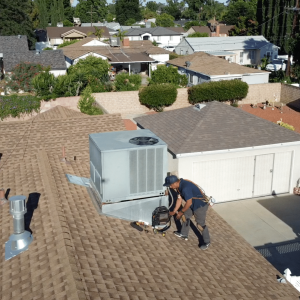 Insulation Installation Cost - How Much is It?
How much having new, high-quality insulation installed in your attic and crawl space costs varies according to their size, condition, and the type of insulation material you are having put in. In the process of removing your old insulation, our team often uncovers issues hidden below the surface that need to be addressed before installing your new insulation.
Providing our clients with an accurate estimate usually requires an in-home inspection, but we may be able to provide a ballpark estimate over the phone if you can provide some basic details about the space you would like to have serviced. To schedule a free consultation, please fill out the contact form above or call us at 1-866-692-5449.
If you've already received a quote for insulation services from another provider in New Jersey, we'd love the opportunity to beat it! Using Atticare's Better Quote Tool, you can attach the competitor's quote along with your contact information and one of our specialists will review it and get right back to you with a competitive quote for a better service at a better value!
Fill out the form below OR call us now to schedule a FREE consultation