#1 Professional
Roofing Company
in the San Francisco Bay Area
#1 Professional Roofing Services in the San Francisco Bay Area
Replacing your roof protects your home, increases energy efficiency, and improves air quality! At Atticare, we install the highest quality roofing systems materials throughout the San Francisco Bay and San Jose areas.
Our Roof Installation & Replacement Process - Step By Step
If you are considering replacing your roof and would like a professional opinion to help inform your decision, the Atticare team can provide you with an in-home assessment. We will inspect your roof for signs of age, damage, and decay in order to help you decide whether it is time for a replacement.
Some problems can be remedied with minor repairs, but the following signs often indicate that you should seriously consider a roof replacement:
Water damage and stains
Missing or damaged shingles
Dull appearance
Older than 15-20 years
When you decide you'd like to move forward with the replacement process, our professional roofers will take exact measurements so we know how much material will be needed. We will also discuss any additional factors that could contribute to the overall labor cost of the installation (i.e., staging for steep surfaces). This will enable us to give you a ballpark estimate, but the final cost will ultimately be determined after you choose your roofing materials.
To schedule a free consultation visit with one of our roofing contractors at Atticare in the San Francisco Bay Area, fill out the contact form above or give us a call at (888) 743-7243.
Following the initial consultation and preliminary measurements, we can start discussing the best roofing system for your home and choosing the materials and colors you'd like installed.
We use the term "roofing system" because making sure your home is both protected and energy-efficient requires more than just high-quality shingles (and a reputable roofing contractor, of course). A roofing system consists of different layers that each play a role in withstanding the elements and maintaining a clean, stable environment in your home.
When it comes to superior roofing technology, Atticare recommends to our clients that they consider the Total Protection Cool Roof from Owens Corning®. Their cool roofing shingles are designed specifically to reflect solar heat, keeping your home temperature more controlled and improving energy-efficiency. This roofing system is built to handle all climates, so it's a perfect fit for every season of the San Francisco Bay Area climate. They also offer a wide range of warm, rich colors to choose from, which gives your home a more modern aesthetic.
The Total Protection Cool Roof system also comes with the following homeowner benefits:
50 Years Industry Leading Warranty
$0 Down Financing Options
Energy-Efficiency Products that Meet California Title 24 Standard
Once you settle on a roofing system, material and color, we will calculate a final estimate for you and work out an installation schedule that suits you and your family.
Roof Removal (if applicable)
Note: This section only applies to projects in which a roof is being replaced. Those who are having a roof installed on a new construction can skip down to Step 4.
Before we can start the roof installation process, the Atticare team must first remove your current shingles and any other roofing materials. Stripping your roof will also allow us to closely inspect the deck boards for any issues that were hidden beneath.
Upon arriving, the first step is to roll out tarps around your home to protect your yard and surrounding area. This also makes the clean up process easier and ensures we don't leave any scraps lying around after we finish.
Then, we will go onto the roof and strip the old shingles and sub-roof until the deck boards are totally bare. If we uncover any boards that need to be replaced before we can move forward, we will inform you and install a new one where it is necessary. This stage gives us a clean, stable canvas on which we can begin constructing your new roof.
The next step is for our team to attach the sub-roof materials. The sub-roof underlayments insulate your home and prevent any moisture or rainwater from passing into your attic or causing water damage to your home's structure.
The system is engineered to protect against anything the San Francisco Bay Area climate might expose your roof to. The sub-roof is the foundation on which we will later lay your shingles, so we will ensure it is properly installed before we move on to installing the final layer of your new roof.
Once the sub-roof has been fully installed, we can now move on to the final stage; installing your new shingles. The roofing experts at Atticare are careful to always follow the manufacturer's installation recommendations in order to ensure you will get the best possible performance out of your new roof. Our team will also install any flashing, ridge vents and caps wherever they are needed.
Once the installation is complete, the team's foreman will conduct a thorough inspection and confirm that the work meets our standards for quality. We also take care of all the cleaning up so we leave your property looking as close to the way it was when we arrived as we can. Our team will also take care of any remaining paperwork with you and most importantly, transfer the manufacturer's warranty over to you.
We Provide Roofing Services

in the San Francisco & San Jose Areas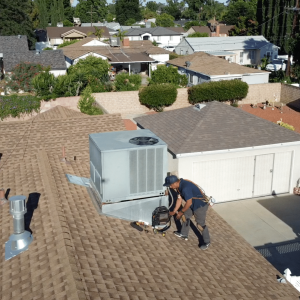 Roof Replacement Cost - How Much Is It?
The total cost of a roof replacement or installation mostly depends on the type of roofing material you choose and the size of your roof. Though a truly accurate estimate would require us to first know the measurements and materials, we can likely provide a ballpark quote over the phone if you can provide us with some simple details about your home. To schedule a free consultation, fill out the contact form above or give us a call at (888) 743-7243.
If you've already gotten a quote for roof installation or replacement from another roofing company in the San Jose or San Francisco Bay areas, we would love the opportunity to provide you with a better one! Using Atticare's Better Quote Tool, you can attach the competitor's quote along with your contact information and one of our roofing specialists will reach out to you with a competitive estimate.
Fill out the form below OR call us now to schedule a FREE consultation